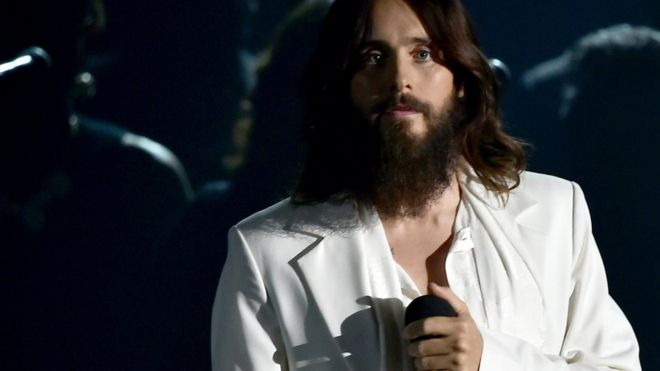 When is a political album not a political album?
When it's the new record by actor and singer Jared Leto's band Thirty Seconds to Mars.
America, the band's fifth album, came out on 6 April and for all its bombastic stadium rock and pseudo-inspiring call to action, tries to steer clear of any specifics, choosing instead to paint slogans with a rather broader brush.
Walk on Water, the taster track from the record which was released last summer, was accompanied by a video stamped with figures about US migration, prison statistics, footage of North Korean nuclear launches, protests and, of course, the President Donald J Trump.
The targets are wide but it's not immediately clear what Leto, his brother Shannon and the rest of the band are asking people to protest about.
A thin line, the whole truth/The far right, the left view/Breaking all those promises made/Times are changing
"Walk on Water is a political song about standing up and fighting for what you believe in," insists Leto, talking to the BBC between dates of the band's UK tour in March.
"It's about change and it's about the possibilities that we have at our fingertips."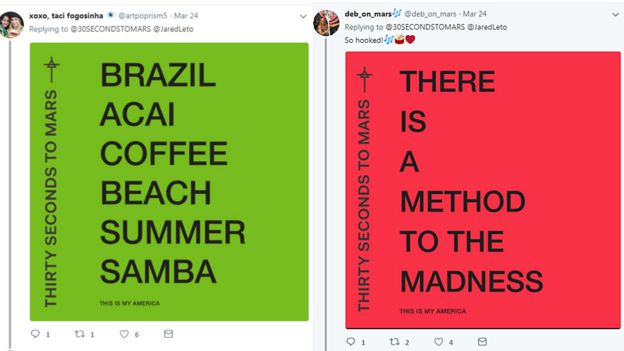 The album's promotional campaign allows users to design their own cover, picking five words which best define the United States of America.
It's a clever spin on traditional album artwork, though just how much the band's fans who live outside the 50 States will be engaged remains to been seen.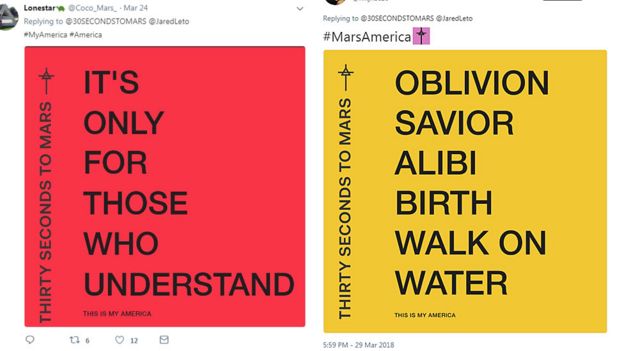 "The idea around the album campaign, the lists, it's almost like a time capsule, if you look at the individuals, they describe specific things but as a whole they give a sense of the culture and the times that we're living in," explains Leto.
The 46-year-old, who formed his band 20 years ago, first found fame as an actor starring opposite Claire Danes in the short-lived cult TV series My So-Called Life.
His performance as a transgender woman in Dallas Buyers Club in 2013 won him an Oscar, a Golden Globe and a Screen Actors Guild Award for best supporting actor.
He also played Batman's iconic nemesis The Joker in 2016's Suicide Squad.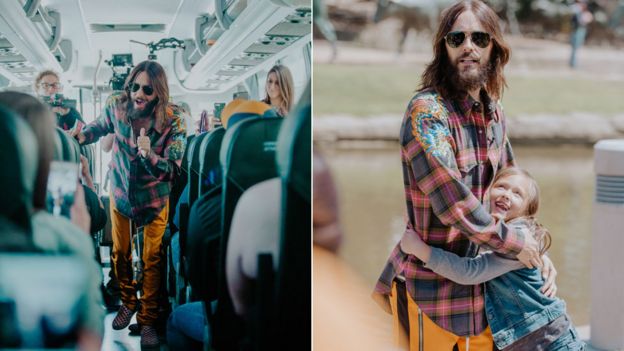 As a musician, Leto has sold 15 million albums worldwide, first touring the United States as a headline act in 2006.
"I'd always wanted to make an album based upon my travels around the country and write an album about the places I'd been and the people I'd interviewed," he says.
"We made a portrait of a country in what I think is a really important time, a time of great change, of instability and uncertainty, a time where were asking big questions about who are we, what type of country do we want to be and these questions are being asked around the world."
The album is partly a companion piece to a short film, which Leto directed, called A Day in the Life of America which aimed to capture 24 hours of American life on the Fourth of July.
Both projects, says Leto, attempt to portray the country warts and all.
"We explore the good, the bad and the ugly, I don't think there's an American alive that sees perfection or sees things in a idealistic way. I think that we are like every nation, a collection of imperfections but also aspirations to kind of follow or reach a bigger ideal or dream."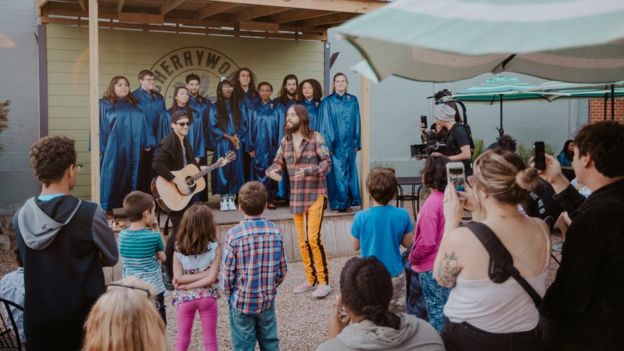 Leto describes the new album as not just political "it's social, it's imaginative, it's highly personal and revealing" but steers clear of any overt campaigning, perhaps for fear of alienating fans on either side of an increasingly divided country.
In today'sclimate, it feels slightly against the grain with even commercial artists like Eminem nailing their colours to the mast, speaking out against the NRA in a new verse of his track Nowhere Fast and his blistering viral anti-Trump freestyle.
Leto did speak out in support of young Americans who took part in the March For Our Lives, telling the BBC he backed them "1000%".
But of the album, which includes duets with rapper A$AP Rocky and singer Halsey, he says: "I didn't want to be overtly political, I was much more interested in being personal and being social and being fun because those are things happening now".
"It's not just a time for suffering and disappointment, there's a lot of excitement and fun and inspiration – for every heartache there's a story of perseverance that is really powerful."
Source: Bbc
Editing: Ines Palumbo